Saturday will be a crazy Memphis moment. At least, that's how Todd Richardson sees it.
Richardson is a co-founder of Crosstown Arts, the group that spurred the redevelopment of the massive, empty Sears Crosstown building.
Since 2010, Richardson's mind has been focused on recruiting partners, signing tenants, finding funding, construction schedules, paperwork, designs, plans, and meetings, meetings, meetings. But at its core, Richardson still calls Crosstown a "miracle."
"Yeah, at the end of the day, what a crazy Memphis moment?" Richardson says with a laugh. "It was the middle of the recession, and it couldn't be done. It's a completely unique redevelopment; there's not another one like these in the country. So, we're really celebrating the tenacity of the city for this miracle to happen. To me, that's what August 19th is all about."
Saturday is the Crosstown Concourse Opening Celebration, a moment eight years (or, nearly 90) in the making. The celebration starts at 3 p.m. with a dedication ceremony in the Central Atrium. The day continues with tenant open houses, live music, and a screening of a feature-length documentary about the Crosstown project.
Much of the building is already alive with residential and commercial tenants. But loose ends will be tied up as the year goes on — more apartments will be filled, programs will be started, and office workers will soon move into now-empty floors.
At full tilt, nearly 3,000 people will come and go there each day, according to Crosstown officials. That impact (economic and otherwise) will hit the area like an "atom bomb," at least, in the words of a city official years ago. That energy will flow from a long-neglected "big empty" and revitalize a neighborhood that's already feeling positive effects, with the potential for transforming a whole section of the city.
Company men from Sears, Roebuck & Co. quietly arrived in Memphis in the late 1920s, seeking sites for a retail center and catalog order plant. They knew if local property owners thought Sears was interested in their property, their prices would skyrocket. So, the Sears officials drove around town, pointing to sites from their car windows, while, behind them, real estate brokers followed in another car and took notes.
The company eventually settled on Crosstown, a then-suburban neighborhood about two miles from downtown. One hundred and eighty days after construction began, on August 27, 1927, Memphis Mayor Rowlett Paine cut the ribbon on a 640,000 square-foot facility that would employ more than 1,000 people.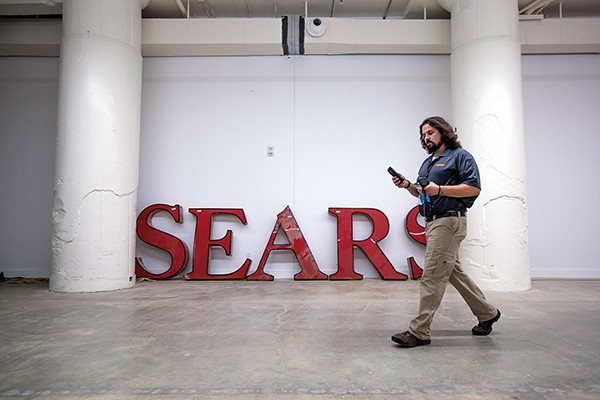 That first day, almost 30,000 shoppers came to visit the 53,000-square-foot retail center. At its peak, nearly 45,000 catalog orders left Sears Crosstown each day.
The building also had a small hospital, cafeteria, ladies recreation area, administrative offices, a credit union, board rooms, and "The Cypress Room," for executive dining.
Forty years later, Crosstown had grown to a mammoth 1.5 million square feet on 19 acres. Unfortunately, like the original mammoth, it had become outdated. Shoppers had headed east and elsewhere. Sears closed the Crosstown retail store in 1983.
The site remained a regional distribution center for Sears. But less than 30 years later, due to the decline in the company's mail-order business, Sears closed many of its warehouses across the country, including Crosstown. The building was left vacant in 1993 and remained an iconic emtpy tower for more than 20 years.
Richardson can tell the story of Crosstown's recent history in about a minute. He's an art historian, a professor at the University of Memphis, but he knew the Crosstown property owner. Richardson asked about the building, and that started a "wouldn't-it-be-cool conversation," he says, which hasn't stopped.
"The biggest challenge we had was to get people to see beyond what they see," Richardson says. "This was a building the size of the Empire State Building that had been empty for 20 years in Memphis. It was in the middle of the recession, so, where do you start and could [anything] ever happen?"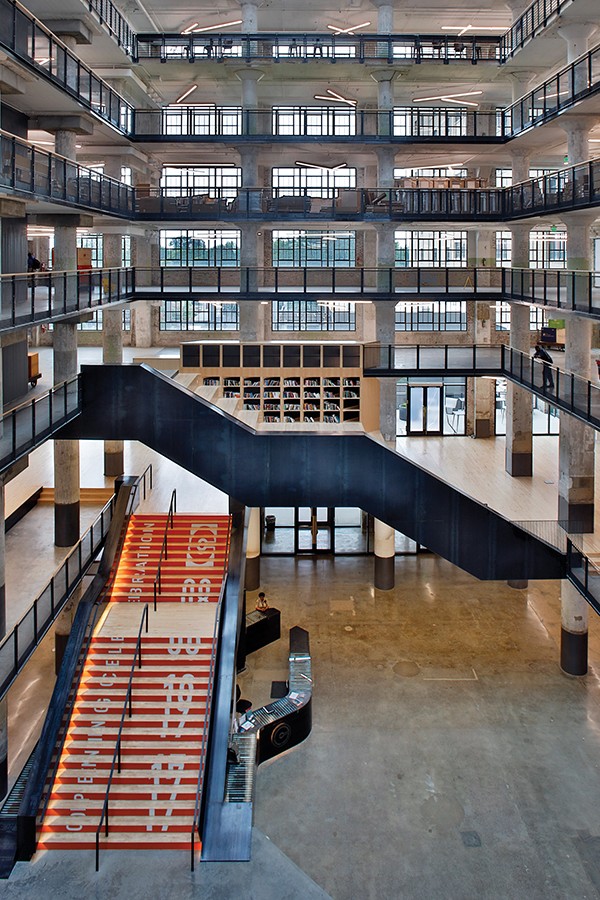 Richardson and Christopher Miner formed Crosstown Arts in 2010 as a nonprofit arts organization that would serve as the building's developer and would one day also be building tenant.
Two years later, the two had commitments from eight local tenants willing to lease a total of 600,000 square feet, nearly half of the building. By the time Crosstown officials asked the Memphis City Council for $15 million (the project's final piece of funding) a year later, the building's tenants included Church Health, Methodist Healthcare, Gestalt Community Schools, St. Jude Children's Research Hospital, ALSAC, Memphis Teacher Residency, Rhodes College, and, of course, Crosstown Arts.
The Crosstown website now calls its facility a "vertical urban village," and some variation of that term has been used to describe it from the beginning. The website also tries to invoke Crosstown's spirit by calling it "a local heart for the cultivation of well-being, shifting focus from products to people, from commodity to quality of life," adding that Crosstown will build "on three of Memphis' strongest community assets — arts, education, and health care. Concourse is now a mixed-use vertical urban village with a purposeful collective of uses and partners."
So, what's in the village?
The building will include Crosstown Arts, Crosstown High School, and numerous health-care agencies. It'll also be home to the Curb Market grocery store, numerous restaurants, a pharmacy, a nail shop, a FedEx Office store, apartments, and more. To anyone in commercial real estate, it looks like a classic mixed-use development, a mix of residential, commercial, and retail spaces. Many of the tenants, including Curb Market, FedEx, Farm Burger, Mama Gaia's, and others, are already doing business in Crosstown.
But Richardson says it's more than that and that it "can't be managed like any other building in Memphis." He said the building and the tenants who fill it have a deliberate tone, personality, and a spirit of inclusivity. They all "are intimately related, interconnected, and interdependent and, as a result, better because they are together."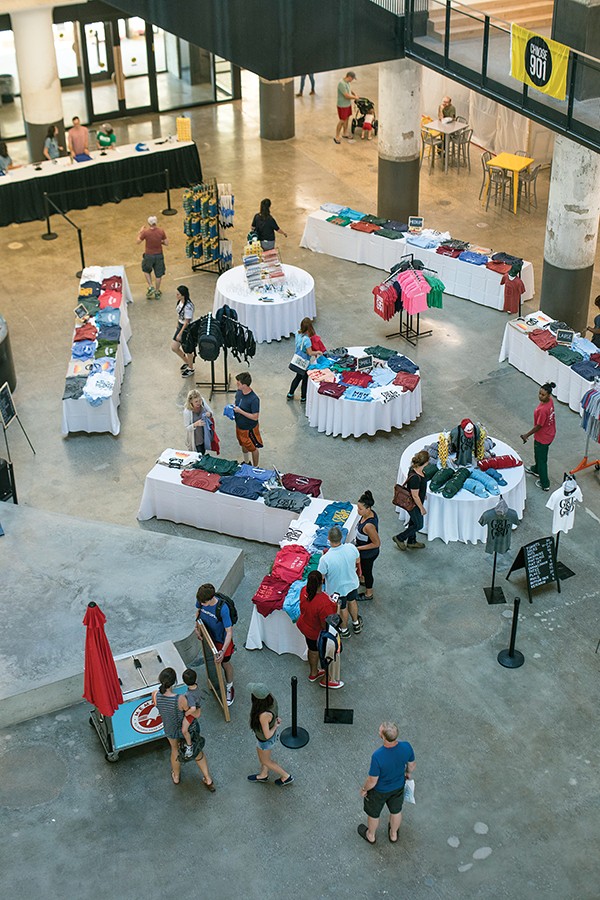 The building was designed for tenant interaction. Those tenants who have have chosen to locate in Crosstown did so because their individual missions will be lifted through those interactions, a Crosstown official says. All of the tenants, whether in arts, education, food, or health care, intersect at wellness, an idea that Ginger Spickler, Crosstown's director of strategic partnerships and projects, said serves as an overall ethos for Crosstown Concourse.
"We've all been to office parks, where you've got lots of people in different buildings, none of whom interact with each other," Spickler says on a recent tour. "So we knew even if we put people in this building, they would not necessarily interact unless we create spaces and experience for them to share together."
So, Spickler says, the design of the building deliberately includes common spaces — a small open theater, large balconies, a massive central atrium — "where those unexpected connections and intersections can happen."
That's precisely why Gary Shorb, the new executive director of the Urban Child Institute, says he wanted to move his organization there, noting they'll "be right next door to Pyramid Peak Foundation and the Poplar Foundation."
"Geography always helps with collaboration," Shorb says. "The closer you are, the better it will be."
Bowties and sport coats mingled easily with hard hats and work boots during an early afternoon last month. The smells of electrical work pierced the aroma of roasting vegetables close to Curb Market. The mid-tempo thump of chilled-out EDM at Mama Gaia was often overcome by the scraping whine of power tools. It was easy to see how far the building had come — and that it still had a little way to go. Richardson says the building is mostly full: About 98 percent of the office space is leased. The apartments are around 80 percent occupied. Retail spaces were about 60 percent leased. The next step will be getting everyone moved in.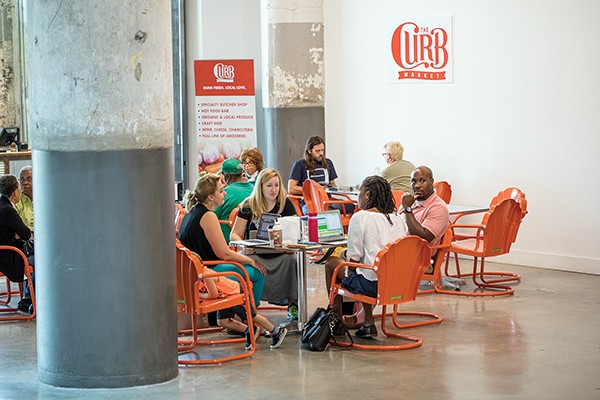 The celebration will be gratifying, Richardson says, but Crosstown Concourse's true success won't be realized Saturday.
"Success for us will be five or 10 years down the road," he says, "when people are still here and enjoying it, and Crosstown is still the vibrant vertical village we all hoped and dreamed it would be."
Some of the tenants that will be based in Crosstown Concourse
One of the founding tenants of Crosstown, Church Health spans 150,000 square feet over three floors in the building's West Atrium. According to its mission, Church Health strives to provide affordable health care to Memphis' working, uninsured population and their families. It's served some 70,000 people since its inception in 1987.
But after the move to Crosstown, for the first time in those 30 years, all of Church Health's services are in the same building. At its former location, 120,000 square feet of clinics, exam rooms, and offices were spread over 13 buildings on Peabody, Bellevue, and Union, says communications director for Church Health, Marvin Stockwell.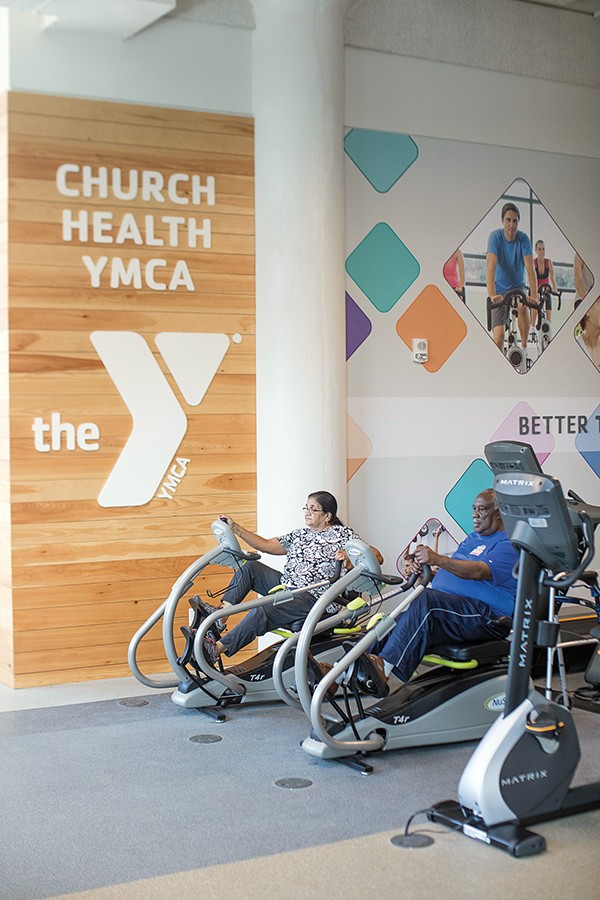 The move to a space 30,000 square feet larger, yet still all under one roof, he says, will enable the center to "serve more people and serve them better."